There are usually two main events each year, one based in the U.K. and one overseas in Europe.

Additionally, the Society's A.G.M. in January is also a social event, currently held at a hotel in Oxfordshire with many members staying overnight. We often engage a speaker to entertain the members after lunch, or alternatively put on a film show.

The most recent event was the EMGS Derbyshire Peak District Tour, held in September 2021. Please see a video of the event below:

This will take place in June (19th to 29th) 2022 - if you would like further information please e-mail
earlymgs@icloud.com
for the full itinerary and latest about availability.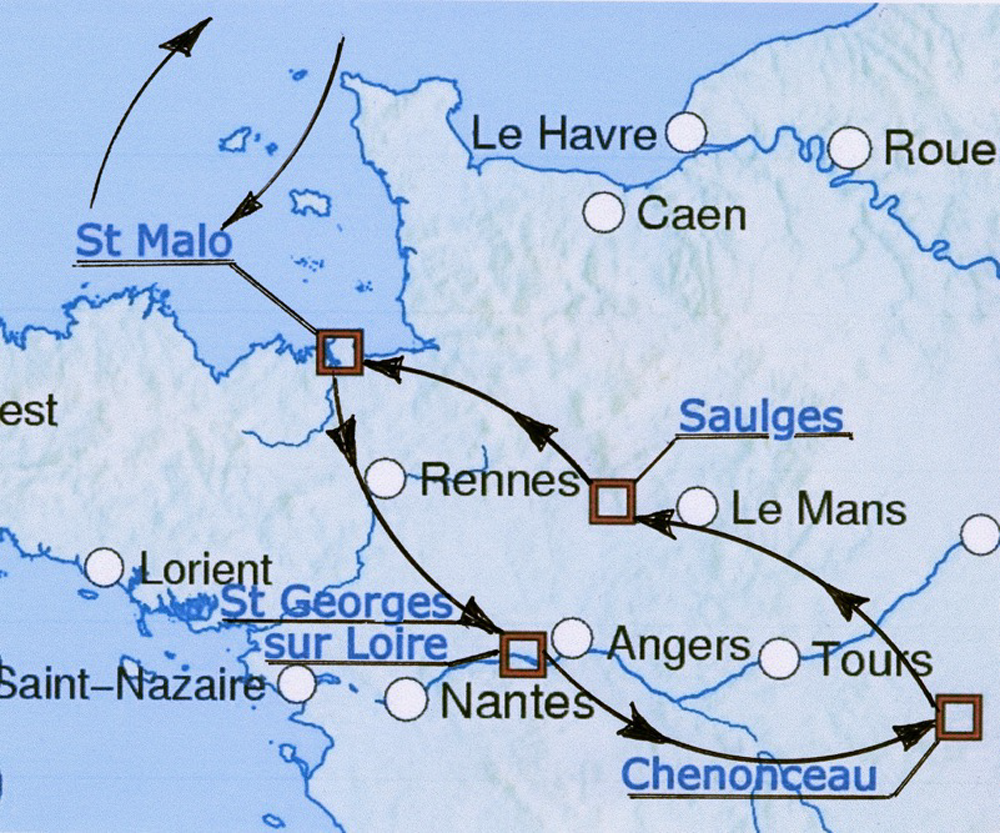 Le Plan: Overnight ferry from Portsmouth to St Malo, drive south to St Georges sur Loire. Stay at the exclusive Chateau de l'Epinay on dinner, bed & breakfast for three nights. The hotel has extensive grounds, formal gardens, swimming pool, fitness centre, free bikes. Visit https://www.chateauepinay.com/en/ for more information.

Chateau d'Epinay

Then: Drive 105 miles east to Chenonceau in the Cher Valley to stay at the Auberge du Bon Laboureur for 4 nights. At the 4- Star Auberge du Bon Laboureur our accommodation will comprise 2 nights dinner, bed & breakfast and two nights bed & breakfast – i.e. 2 evenings free to eat out at local restaurants within walking distance.

Secure parking within the hotel grounds, swimming pool, gardens, etc. For more information visit https://www.bonlaboureur.com/en/loire-valley-hotels This traditional hotel, built in the 18th century is within easy walking distance of the Chateau de Chenonceau – one of the most picturesque French chateaux, and which spans the River Cher.

A full programme of optional outings will be arranged at both hotels and there will be an EMGS pétanque (or boule) championship to sort out les hommes from les garçons!

On the return journey to St Malo, we will stay overnight at the hotel l'Ermitage in Saulges, (104 miles from Chenonceau) which is in the Mayenne department, west of Le Mans, on dinner, bed & breakfast. The EMGS group has stayed here before, since when a new bedroom wing has been built. Saulges is 108 miles from St Malo.
Visit https://en.hotel-ermitage.fr/ for more information.

The tariff for this event includes large 4-berth cabins for two occupants on the ferries (cabin upgrades available) and twin/double rooms at the three hotels, where upgrades are also available, prices on request from earlymgsociety@btinternet.com

Included are: 8 hotel nights in France, with 6 evening meals at the hotels, plus 2 nights on ferries.
A full touring programme, visiting places of interest will be arranged.
More details & tariff from earlymgsociety@btinternet.com
© The Early M.G. Society - No images or content may be reproduced without the express permission of The Early M.G. Society and due acknowledgement given.